Sharing Join Code for others to join a PB Cycle
PB Administrators can invite others to join a PB Cycle. How? By sharing the PB Cycle's Join Code.

If you are a PB Admin, you can invite two different types of users:
Participants: These are most commonly students, their goal during the PB Cycle will be to create proposals, 'like' proposals from others, add comments, and vote.

Coaches: Admins can rely on others to help coach students into more feasible proposals, coaches can be other teachers, parents or invitees from other organizations.
Follow these steps to find the share Join Code within your PB Cycle: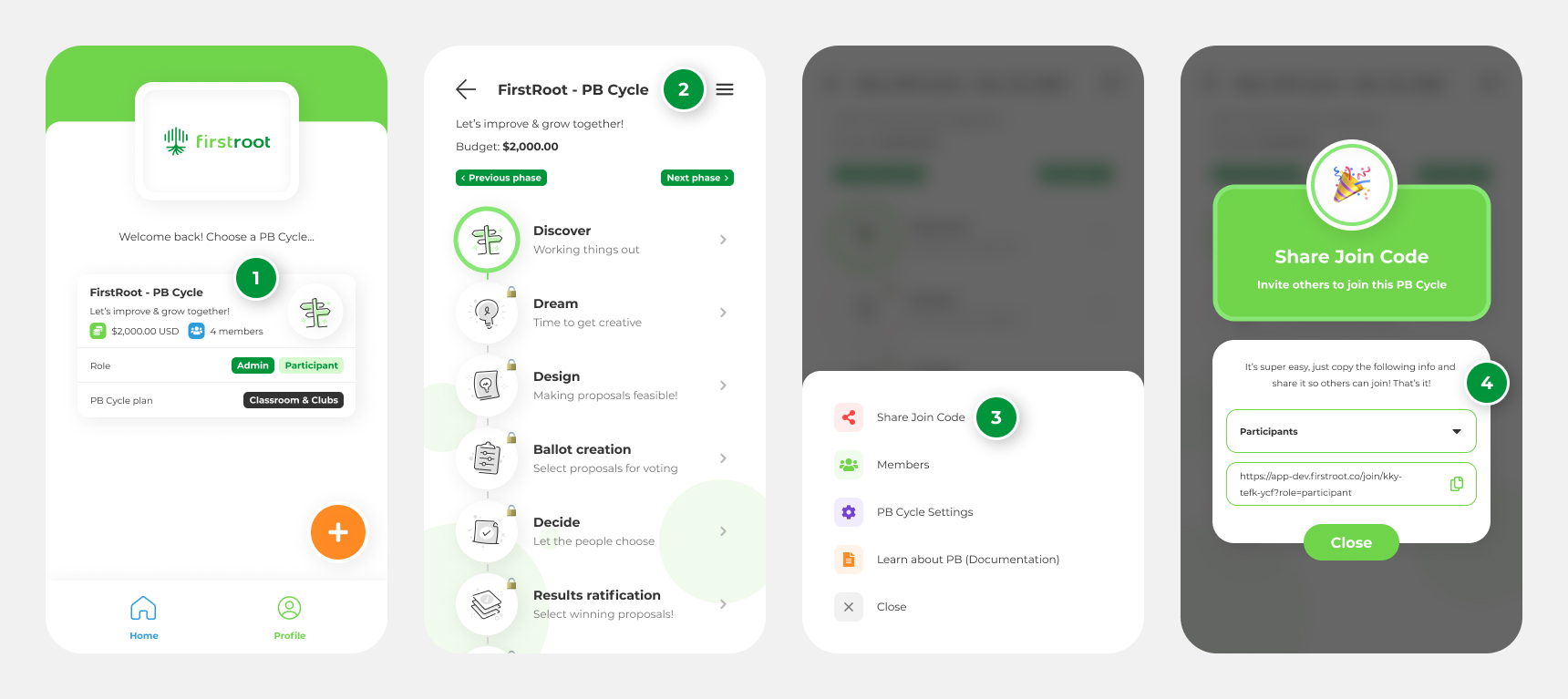 STEP 1 - Enter your PB Cycle

STEP 2 - Click/Tap the 'PB Actions' icon located in the top right corner of your PB Cycle

STEP 3 - From the 'PB Actions' menu, select "Share Join Code"

STEP 4 - Select the role (participants or coaches) and copy the corresponding Join Code URL with the "Copy to clipboard" icon

FINAL STEP - After sharing the Join Code, others will be able to join your PB Cycle
Related Articles

How to Manage PB Cycle Members

PB Administrators can manage members of a PB Cycle. There are currently 4 available user roles for a PB Cycle. Owner / Main PB Admin: Person who created the PB Cycle Co-Admins: This role allows users to manage the PB Cycle phases, most commonly ...

Promoting your PB Cycle

An essential activity in Discover is promoting the PB program and registering participants. Promotion When the Dream phase begins, students should be signed up, knowledgeable of what PB is and what they should expect in the coming weeks. Consider ...

PB Theme and Description

Think of the PB Theme as the Title of your PB Cycle. There are a few reasons the PB Cycle theme is important: A theme inspires ideas – Humans often have a hard time creating something from nothing. It's far easier for a student to expand upon a ...

Participatory Budgeting (PB) Cycles

Why does FirstRoot talk about "Participatory Budgeting (PB) Cycles" and not "PB Projects," "PB Events," or "PB Workshops"? Cycle n. – "a series of events repeated on a regular basis" Participatory budgeting is most effective when performed on a ...

PB Schedule

Setting the PB cycle schedule defines the starting and ending dates for each phase. This helps students plan their activities as they know in advance how much time is allocated for each phase When setting the schedule, is helpful to take into account ...